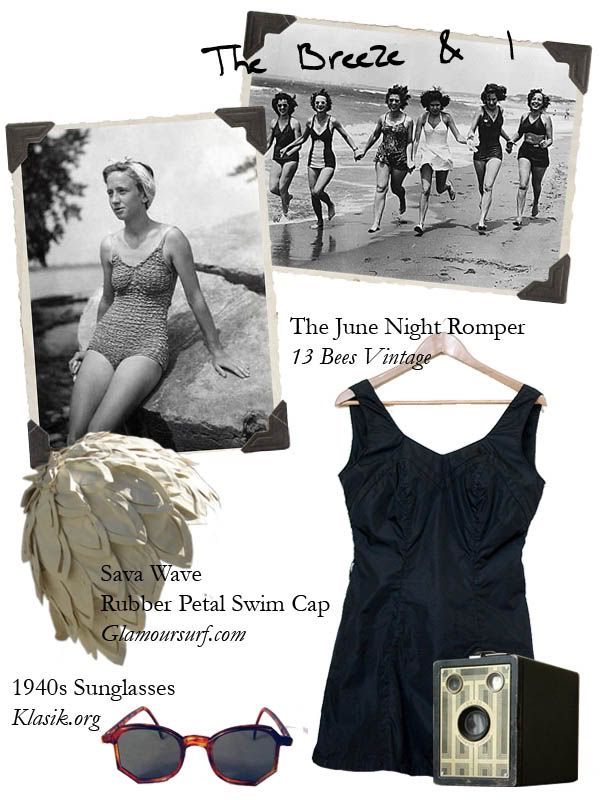 Four, five, maybe six years have passed since I invested in swimwear that's new to me. The slightly strange thing about this is that I'm actually an avid swimmer. And now, with summer upon us, (insert jubilation here) I find myself lounging or lapping in sports bras, panties or whatever suitable swimsuitesque attire I find hiding in my drawers.
The time, I think, has come. Oh swimsuit! Wherever you may be, do say you hold the following affections…Time worn beauty. Utilitarian raison d'être. Unsurpassed comfort.
Enter 1940's swimwear. Though I wouldn't exactly call the girdle the ultimate in comfort, I can't imagine these to be anywhere near the unpleasantness experienced by many a Southern belle. And truly, the idea of keeping all my parts nicely tucked away while swimming laps is rather appealing especially considering I have a hard time keeping my current garment of choice on my body!
Now let us dive in with two essentials as seen above…
The June Night Romper Swimsuit at 13 Bees Vintage is a perfect match for my aquatic needs. I just stumbled upon this Etsy shop a few days ago on my quest for a suit, and my, what a find! It's filled to the brim with heaps of vintage gems and expressive titles to match.
The Sava Wave Rubber Petal Swim Cap at Glamoursurf.com is pure glamour in itself, not to mention ideal for keeping your have in place during laps. Affordable accessories, it's true. But sadly the suits themselves are a bit pricey. And with loads of swoon-worthy pieces from as early as the turn-of-the-century, Glamoursurf is purely eye candy. Well that is to say for me. To dream or to purchase? I think it may well be time for the later.