I've been wanting to make these sweet potato minis for a few weeks but just got around to it this afternoon. A little treat just in time for Thanksgiving dinner I suppose!
The recipe is a modified version of a family-to-family sweet potato casserole. A Southern holiday dinner staple that's usually served as a side dish, I wanted to sweeten it up a bit to serve as a dessert. I didn't really know what to call it. It's not so much a pie, not really a tart and not eggy enough to be considered a custard. Here's what happened...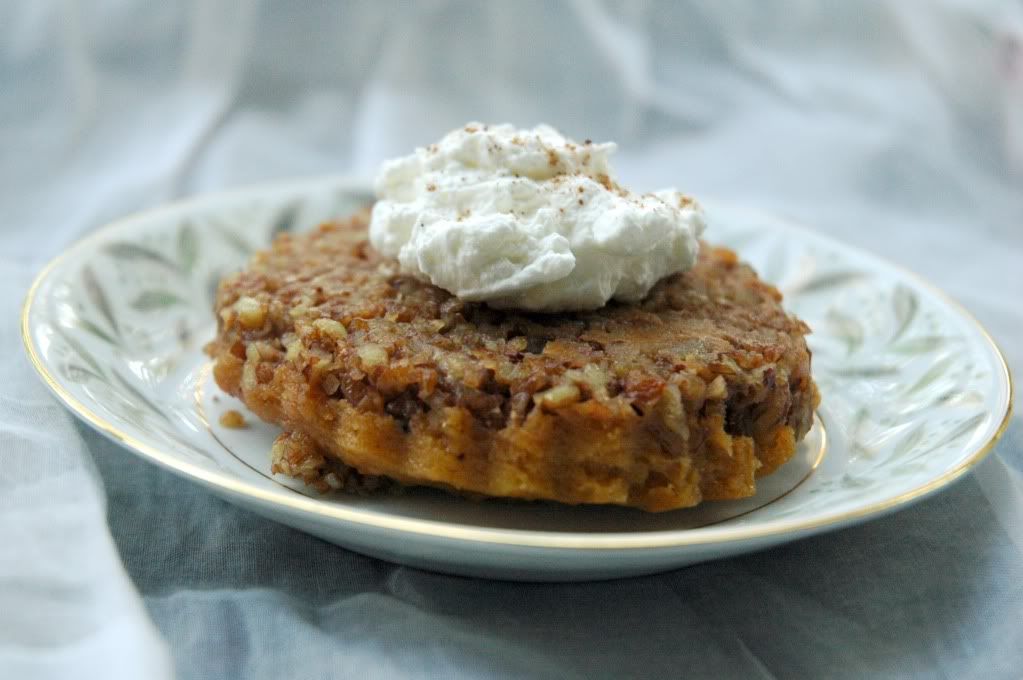 Here's what you'll need:
3 cups mashed sweet potatoes
2 eggs
1 cup sugar
1 small can evaporated milk
1 stick melted butter
1 tsp. cinnamon
½ tsp. nutmeg
1 cup pecans
2-3 tbsps. brown sugar
Here's what to do:
First you'll need to preheat the oven to 350 F. In a large bowl, fold the eggs into the mashed sweet potatoes. Add the sugar, evaporated milk, 1/2 stick butter, cinnamon and nutmeg. Set this mixture aside.
Now it's time for the crust. Finely chop up the pecans, then toss in the brown sugar and butter. Mix well and spread on the bottom of a pie pan or tart pan. Add the sweet potato filling. Bake for 35-40 minutes depending on if you're making a full size pie or little minis as shown above. Add a dollop of whipped cream, sprinkle with cinnamon or nutmeg and devour! P.S. Better names welcomed!